The HMBradley method for saving your first $100k
Saving your first $100k is hard. One gets there by budgeting well and working harder. Whether you're just starting out or almost there, it's never too late to adjust your habits.
1. Open up a high-yield deposit account
If you don't have your cash in a high-yield deposit account, stop now (seriously!). Do not pass go, do not collect $100. After all, if you have $100,000 saved, you could be missing out on thousands of dollars per year.
We recommend opening a high-yield account with HMBradley¹ so you can take advantage of the features mentioned in the rest of the article, but here are some other banks that are popular with HMBradley customers. Be sure to check the requirements to obtain their stated APY² — some have deposit minimums or monthly transfer limits or other requirements — to make sure they meet your everyday needs:

Open a high-yield HMBradley deposit account
2. Pay yourself first
As Warren Buffett said, "Do not save what is left after spending, but spend what is left after saving."⁵ Paying yourself first is a financial strategy that involves setting aside money for savings before paying bills and making other purchases.
Not sure how much to set aside? Consider following the 50/30/20 rule to get started:
50% to needs
30% to wants
20% to savings and debt payments
Automatic transfers make it easier to pay yourself first. With an HMBradley deposit account, you can put your direct deposit to work automatically following the 50/30/20 strategy. Try the Paycheck split Routine today.
3. Give every dollar a job
Now that you have 50% of your income set aside for needs, consider: do you know what you're going to be spending that money on before you spend it? If not, you may find yourself wondering where that $100 went at the end of the month. Popularized by YNAB, zero-sum budgeting means being intentional about where every dollar of your income is going to be allocated so there are no surprises.
When you put your expenses on an HMBradley credit card⁶, we show your top spending categories each month, making it easy to understand where your money went and plan for the next month.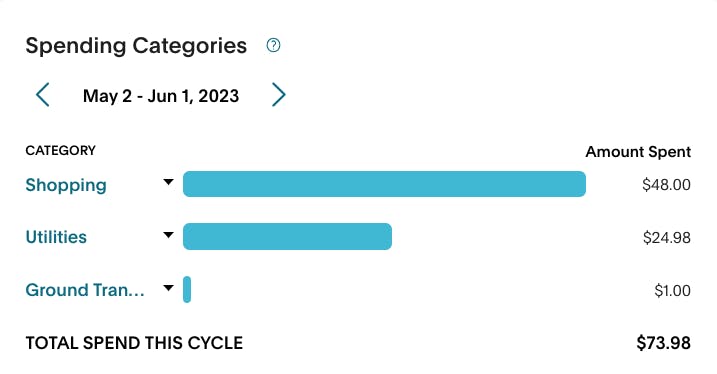 For illustration purposes only.
4. Find more ways to save
So, your savings is automated & your spending is managed. What's next? Keep up that positive cashflow and save any extra to get to $100k faster. Try these Routines — those dollars and cents add up:
5. Review your finances monthly
What other automations can you put in place to help you reach $100k? Tip: Do this with someone you share finances with!
Here are templates that other HMBradley users created to suit their goals:
Want to create something different? Talk to us → support@hmbradley.com 
____________________________________________________________________________________________________________________
Disclaimer/Footers
¹HM Bradley, Inc. (HMBradley) is a financial technology company, not a bank. Deposit accounts provided by New York Community Bank, a division of Flagstar Bank, N.A., Member FDIC. Accounts are insured up to $250,000 per depositor.
²APY means Annual Percentage Yield. To earn 4.50% APY, you must have $500 in total deposits, maintain positive cashflow, and spend at least $500 on your HMBradley Credit Card each month. Interest rates may change. Terms and conditions apply; see NYCB Deposit Account Terms and Current APYs for details.
³Source: https://www.ally.com/bank/online-savings-account/ (Please note: By clicking on the link, you are leaving HMBradley's website and going to a third-party website.)
⁴Source: https://www.capitalone.com/bank/savings-accounts/online-performance-savings-account/ (Please note: By clicking on the link, you are leaving HMBradley's website and going to a third-party website.)
⁵Buffett, Warren. The Essays of Warren Buffett: Lessons for Corporate America. 1991. Cardozo Law Review
⁶The HMBradley Mastercard Credit Card is issued by MRV Banks pursuant to a license from Mastercard, Inc. and may be used everywhere Mastercard debit and credit cards are accepted. Certain restrictions may apply. Mastercard is a registered trademark, and the circles design is a trademark of Mastercard International Incorporated.

HM Bradley, Inc. (HMBradley) is a financial technology company, not a bank. The information above is for informational purposes only and is not legal, financial, or tax advice, and it may not be suitable for your individual needs; speak to a licensed financial advisor who can help you tailor a plan for your specific needs.