Why the HMBradley Credit Card is the Only Everyday Card You'll Ever Need
Posted on February 09, 2021
HMBradley believes that your banking platform should know you, and that you should never have to jump through hoops for savings benefits or credit card rewards. That's why we've designed the HMBradley Credit Card1 to adapt to your spending so that we can automatically reward you for your biggest expenses. No more figuring out which credit card makes the most sense for a purchase—the HMBradley Credit Card is the last credit card you'll ever need.
With benefits including Savings Tier Boosts and 3-2-1 Cashback, the HMBradley Credit Card helps you maximize your savings and automatically earn when you spend. Let's take a closer look at how everything works.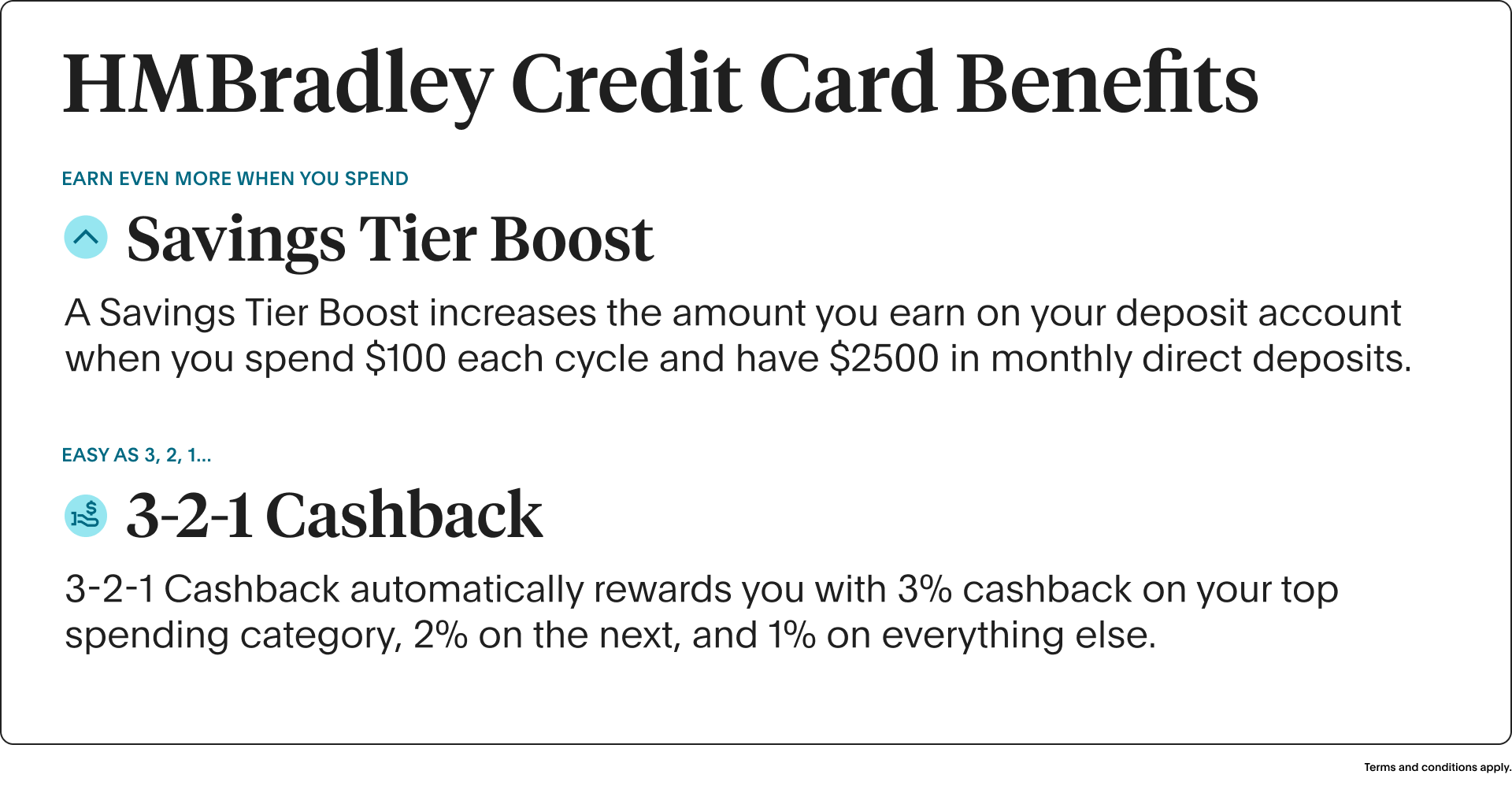 How do Savings Tier Boosts work?
When you pair the HMBradley Credit Card with your HMBradley Deposit Account, you can boost your APY by 3 times (3x) through our Savings Tier Boost Promotion.
To earn a Savings Tier Boost for the next quarter, follow these two simple steps each month of the quarter:
Spend at least $100 per cycle on your HMBradley Credit Card
Have at least $2500 in direct deposits each month
Click here to see the terms and conditions of the Savings Tier Boost Promotion.
How does 3-2-1 Cashback work?
3-2-1 Cashback is how your HMBradley Credit Card automatically rewards you with cashback for your most significant expenses. This benefit is always on in the background, adjusting to your spending, so you never have to worry about using the right card to maximize rewards – we do the work for you. Click here to see the terms and conditions of 3-2-1 Cashback.
Our rewards categories are comprehensive and include healthcare, fitness, and categories that most credit cards don't reward. That means your HMBradley Credit Card is the only card you'll need for any kind of expense.  
Let's take a look at a few examples to see how 3-2-1 Cashback always has your back.
Recurring Expenses
Trae is in enviably good shape thanks to his meticulous fitness regimen and diet. In addition to Peloton and rock climbing gym memberships, Trae also regularly buys new equipment for his home workouts. Every month, his Peloton subscription, climbing gym membership, and equipment purchases are the largest expenses on his HMBradley Credit Card, so he regularly earns 3% cashback in the health and fitness category. Trae is also on a strict diet and his food costs are always his second highest expenses on his card, so he consistently earns 2% cashback on groceries, and 1% cashback on everything else3.
Planned Large Expenses
Gabriella has finally saved enough to upgrade her apartment with new furniture. Because the price of a new sectional, area rug, coffee table, and lamp added up to be her most significant expenses on her HMBradley Credit Card on that month's statement, she will earn 3% cashback on her furniture purchases.
Unforeseen Expenses
Mica went in for a routine dental checkup only to discover they had a few cavities that needed to be filled right away. Ouch. The cost of the procedure was more expensive than Mica expected–double ouch!–and was ultimately their largest expense of the cycle, even if it was absolutely necessary. Since they used their HMBradley Credit Card to pay the medical bill, they will earn 3% cashback in the healthcare category.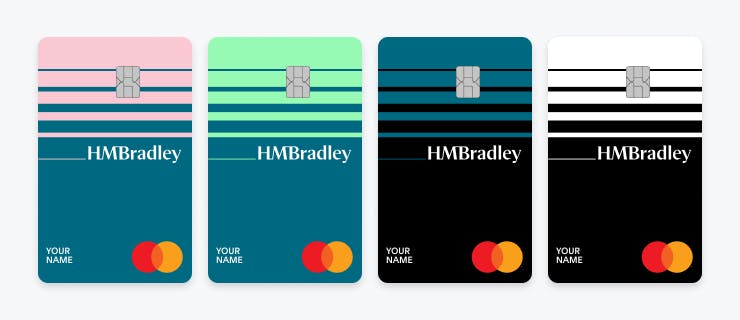 What is the card's annual fee?
For $60 annually (currently waived for the first year!) you have access to the HMBradley Credit Card and its benefits – but let's take a quick look at how quickly the value of our rewards recoup that $60 fee.
We're going to want to consider both the cashback and the incremental interest earned from the Tier Boost. 
Let's say you spend $250 a month on the credit card in your top, 3% cashback category – that's $3,000 a year and 3% cashback gets you $90 back! So just that alone recoups the cost of the card's annual fee. 
Your situation will likely vary, but hopefully it's clear that these Rewards are well worth the annual fee (which, did we mention, is currently waived for the first year?)
How do I get an HMBradley Credit Card?
With an active HMBradley deposit account4, you just need to opt into One Click Credit, and we will automatically notify you if you are eligible for the HMBradley Credit Card. We send offers at the beginning of every month, so be sure to check your account and email to see if you qualify. With One Click Credit, you authorize us to make a soft inquiry on your credit report each month for twelve months to determine if you are eligible for the HMBradley Credit Card. The inquiry does not affect your credit score and is not an application for credit.
You can find the terms and conditions for the cashback on the Rewards Program Terms and Conditions page, the terms and conditions for the Tier Boost on the Savings Tier Boost Promotion page, as well as a full list of our cashback categories on the Merchant Categories page. Just like saving, spending on necessities is part of any healthy budget and HMBradley rewards you for both. With the HMBradley Credit Card, you'll never need another card.