You know that HMBradley is one of the best platforms for savers, but your friends might not. And friends don't let friends miss out on more interest. That's why we're introducing our new referral program and Savings Tier Rewinds. A Savings Tier Rewind allows you to reclaim last quarter's Tier if your Savings Tier drops due to your savings percentage. Starting today, when your friends open an HMBradley Account, you'll earn a shiny Savings Tier Rewind and the ability to restore a Savings Tier with a higher interest rate.
While other banks change their rates without so much as a heads up, HMBradley believes you should have more control over how you save and earn interest. With Tier Rewinds, you have another tool in your toolkit to make sure your money is always working its hardest for you.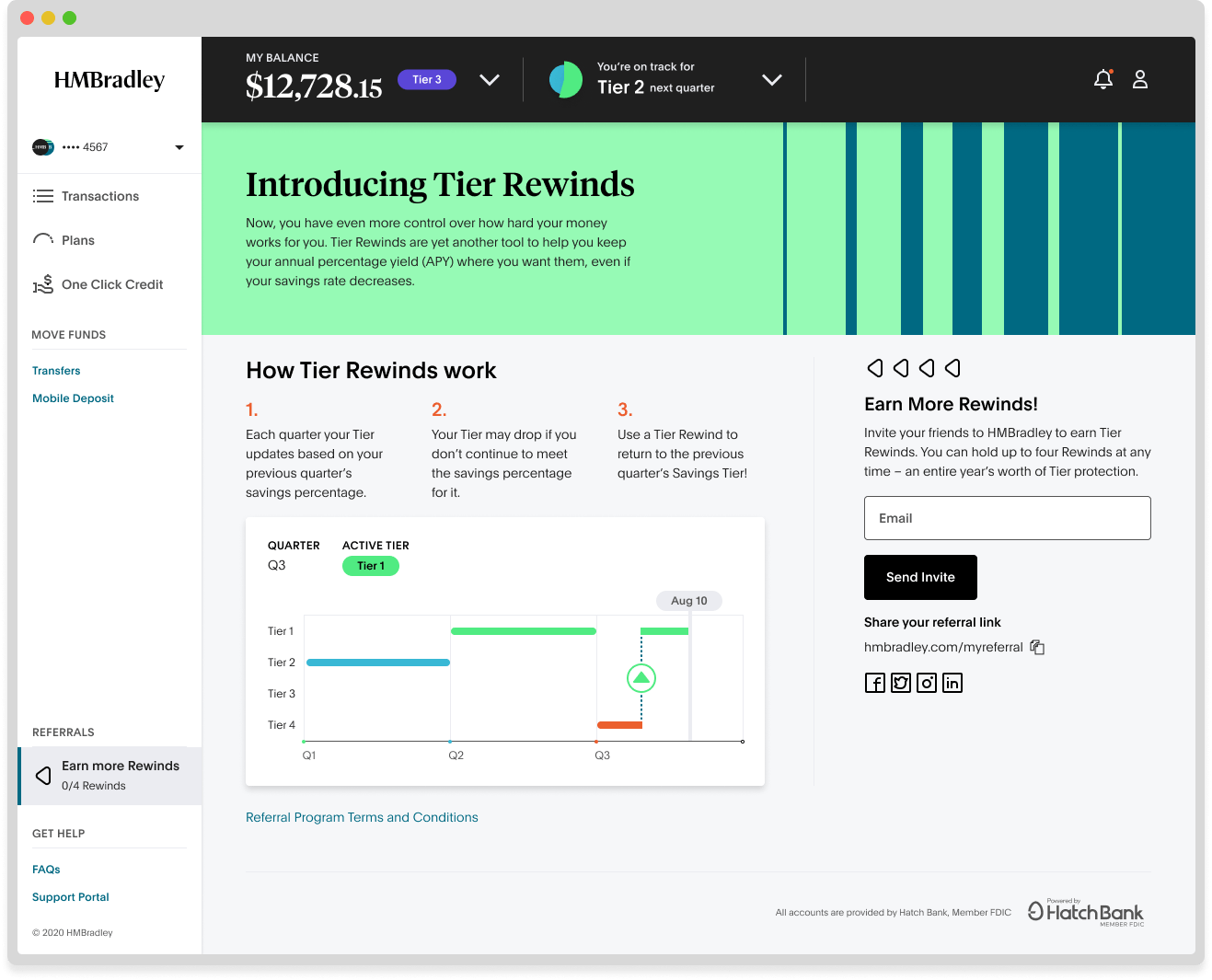 What Are Savings Tier Rewinds?
Tier Rewinds are how we thank you for referring friends to HMBradley. When you refer someone who opens an HMBradley Account, you are awarded one Tier Rewind that you can use whenever you need it. You can stash up to four Tier Rewinds at a time so you're always prepared.
How Do Tier Rewinds Work?
A Tier Rewind is like a time machine that lets you travel back to your previous quarter and reclaim a better Savings Tier for the rest of the quarter. Tier Rewinds restore a previous quarter's Savings Tier and accompanying interest rate. And with up to four Rewinds in your back pocket, you could effectively lock in a high savings rate for an entire year – if you ever need to.
If your Tier drops after a new quarter begins, you can apply a Rewind and *poof* – you're back to your previous, better Tier from the day you apply your Rewind through the remainder of the new quarter. To use a Rewind, simply navigate to the referrals page and click the "Apply Rewind" button.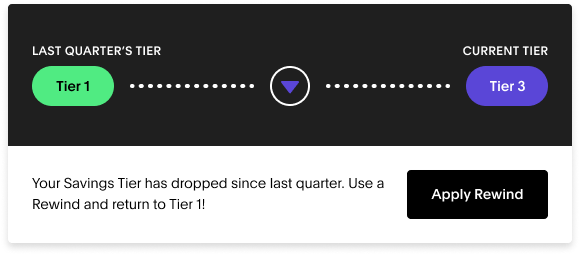 Here is the process in a few short steps:
Your Tier drops at the start of a new quarter
You apply a Tier Rewind any time after that quarter begins
You enjoy your previous Tier status and higher APY for the remainder of the quarter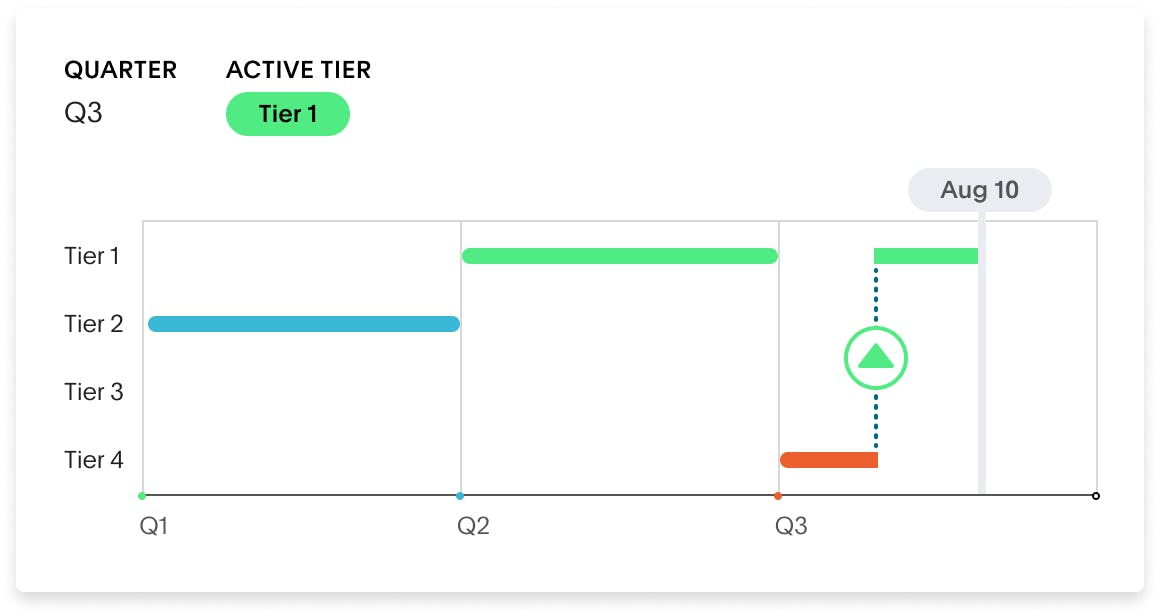 Now let's take a look at a few hypothetical situations where Rewinds would really come in handy.
A Planned Expense
Jeff has had his eye on a luxurious new sectional couch for his apartment for the better part of a year and he's diligently saved up enough to buy it as a Christmas present for himself. Though he planned to spend the money, the couch is still a sizable expense and Jeff's Tier will drop once the new year begins. But Jeff was ready for this and applies a Tier Rewind on January 1st to reclaims his previous Tier for the rest of the quarter.

An Unforeseen Expense
Cindy's year is cruising along perfectly until a costly fender bender puts a dent (heh, car pun) in her savings plans. After the unexpected expense, it looks like she's headed for a lower Savings Tier in the following calendar quarter. After the new quarter begins Cindy remembers she has a Tier Rewind, which she uses to restore her previous Tier, despite the slight car setback.

Transferring Funds
Shawna is an avid saver and savvy investor. She thinks she has spotted a great opportunity in the stock market and decides to transfer some money out of her HMBradley account in order to invest it. She takes enough money out that her Savings Tier status is lower once the following quarter begins. But Shawna is prepared and on the first day of the new quarter, she uses a Tier Rewind to reclaim her previous rate so she can keep earning at the higher interest rate.

How Do I Refer a Friend?
As long as you have a monthly direct deposit, all you have to do is log into the HMBradley app and tap on the Rewinds link in your sidebar. From there, you have two ways to refer friends:
Enter your friend's email and we'll send them an invitation to apply with your unique referral link for you, or
Copy your unique link and share however you prefer (text, email, social media, snail-mail, carrier pigeon) 
Once your friend applies for an HMBradley Account with your referral link and is approved, you will automatically receive a Tier Rewind. You can view your Tier Rewinds here.
Where Can I Learn More About Savings Tiers and Tier Rewinds?
If you are looking for more information about how our Savings Tiers work, head to our explainer for all the details you'll need. Have more questions about Tier Rewinds? Check out our FAQ for any additional information. And of course, you can always reach out to our customer support team with any other questions.
At HMBradley, we always have your best interests in mind – that's why we reward you for saving and helping your friends save too. Now go tell your friends how HMBradley empowers you to stay in control of your finances and earn your very first Tier Rewind.