A look ahead at upcoming HMBradley releases
Posted on February 23, 2023
You took a bet on us last year when we switched to a new sponsor bank. We know you have options and we value your loyalty. We're excited to let you in on what we've got in the works!
Last year we (re)built our foundation. While most of our development was back-end, we made big bets that give us more runway to deliver the features you expect and features you haven't thought of yet. Read below to see what's coming up!
HMBradley Deposit Account 
First, let's talk about the deposit product¹ Our top-of-market interest rates² and modern interface already set us apart from the pack, and we've got exciting new features launching very soon:
Joint Accounts -  Open a shared account to easily manage household finances with your partner 
Cash Flow Trends - Track how much you're saving vs. spending in real time
Debit Card - We know you need them, and they're coming back very, very soon.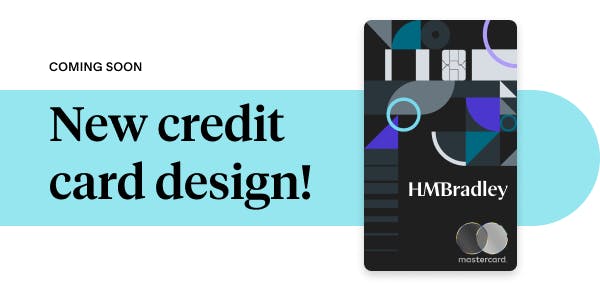 HMBradley 1.5% Cash Back Credit Card³
We are integrating our credit card portfolio with a new bank partner soon and will build more features you want. Coming up:
Bold new card design - Don't worry, we'll send it to you in the mail as soon as it's ready!
Authorized users - Get to the $500 spend requirement – and our highest APY of 4.2% – even faster by adding authorized users to your account.⁴
And something really big on the horizon…Routines
We're building a lot of features you expect (and some you don't) but the one we're most excited about isn't a feature at all – it's a platform. A whole system of triggers and actions that will make automating the way your money moves simple and intuitive, and put your money to work in ways you never thought possible. We can't wait to tell you about our new Routines (Beta) – our vision to provide the connective tissue to all of your accounts…coming soon!
What do you want to see us build next?
Let us know in our quick two question survey here.

_______________________________________________________________________________________________________
¹Deposit accounts provided by New York Community Bank, a division of Flagstar Bank, N.A., Member FDIC. 
²According to FDIC National Rates as of February 15th 2023
³Terms and conditions apply; see the HMBradley Credit Card Cash Back Rewards Program here for details. 
⁴APY means Annual Percentage Yield. Interest rates and APYs may change any time after account opening. Terms and conditions apply; see the Deposit Account Terms & Current APYs for details.
HM Bradley, Inc. (HMBradley) is a financial technology company, not a bank. Deposit accounts provided by New York Community Bank, a division of Flagstar Bank, N.A., Member FDIC. The HMBradley Credit Card is issued by Hatch Bank pursuant to a license from Mastercard.