Introducing the HMBradley Ecosystem
Posted on December 15, 2021
From the very beginning, HMBradley was built around YOU – around the idea that personal finances should be both empowering and rewarding, every step of the way. You deserve a financial platform that's actually invested in your success, one that wants to see your wealth grow and your financial habits strengthen over time. 
This past year, we witnessed explosive growth that defied even our wildest expectations. It's clear that this commitment to rewarding sound financial habits struck a deep chord with a wide audience, and in July of 2021, we made the decision to move to an invite-only model to accommodate the explosive demand for our flagship product. 
Since that time, our team has been working tirelessly to reopen HMBradley to the public and to double down on our promise of offering the most rewarding experience in personal finance. Today, we are excited to announce some major changes to the HMBradley platform that will not only enable us to open our doors wide for everyone, but will help us take one step closer to realizing our vision of creating a place where your money is always working hard for you, no matter who you are, where you come from, or what your unique goals for your money are.
Welcome to the HMBradley ecosystem: a comprehensive financial platform that rewards you – however you save, spend, or borrow. 
Over the coming months, we'll be rolling these changes out, first to our existing customers, and then to those of you who have patiently waited for an invite and the general public in the new year. There's never been a better time to start building a better financial future. Let 2022 be the year you unlock your money's potential.
Here's how it works
Step 1: Get started with your HMBradley Profile.
If you are an existing HMBradley customer, simply opt into our free Credit Insights & Invitations on the "Insights" tab of your account.
There, you'll find financial insights such as your credit score, debt-to-income ratio, and credit utilization – key components of your financial picture that creditors look at when making lending decisions. We are committed to being as transparent as possible about where you stand with HMBradley, so you'll also be able to see personalized invitations to the HMBradley Credit Card that you may qualify for. Thanks to our unique lending process, we are able to extend credit invitations to you without any impact on your credit score. 
If you qualify, you can claim your HMBradley Credit Card invitation effortlessly, in a single click.
Step 2: Put your everyday spending on the HMBradley Credit Card.
The HMBradley Credit Card offers dynamic cashback that automatically adjusts to your unique spending habits. Each billing cycle, you'll earn 3% cashback on your top spending category (whether that's a big ticket item or groceries), 2% cashback on your next biggest spending category, and 1% cashback on all other eligible purchases. With HMBradley, there are no limits to how much you can earn, so you can feel confident you're always maximizing your rewards.
Check out some of the HMBradley Credit Card's incredible benefits below: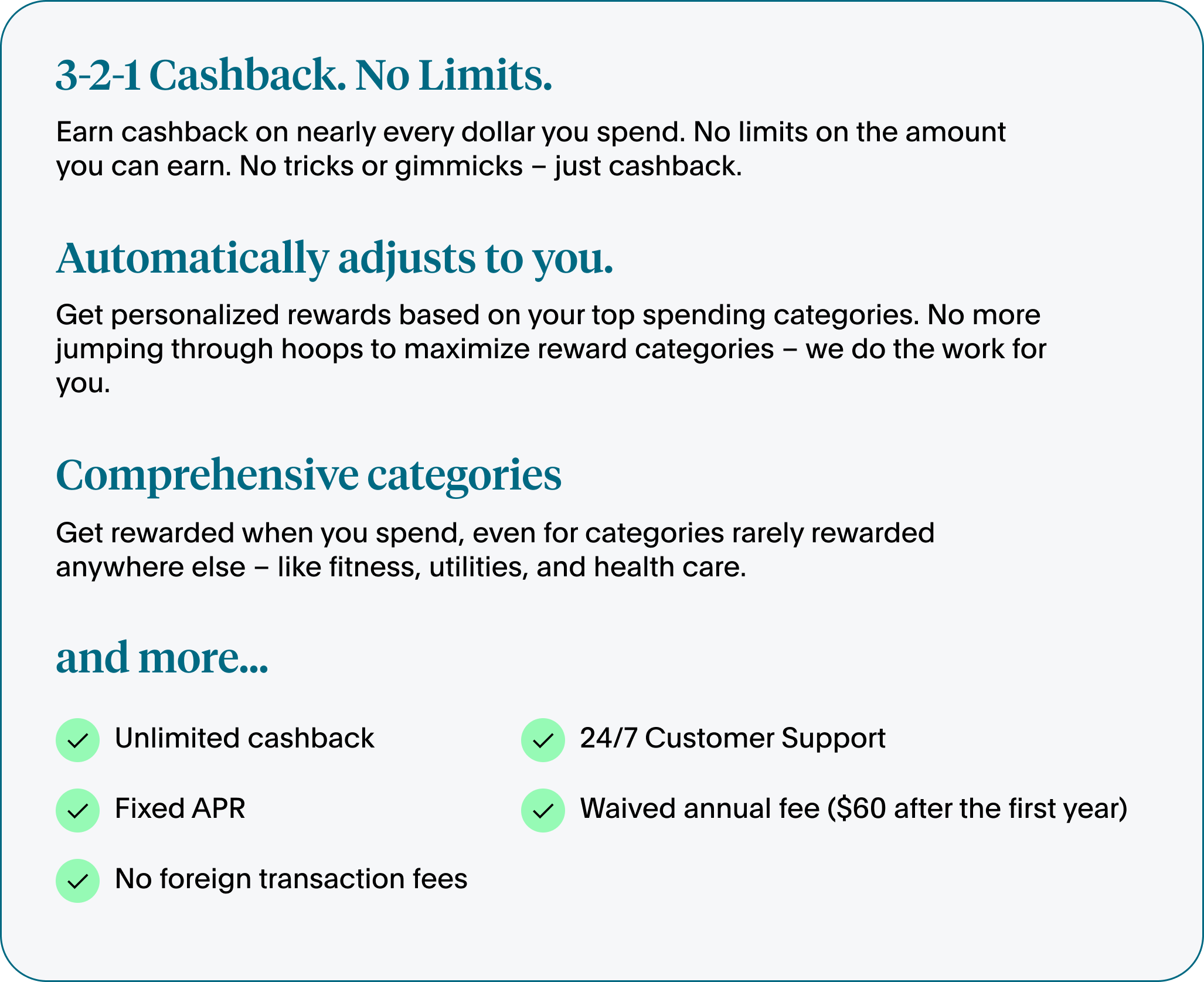 Why credit? 
It may seem a bit odd for a company so invested in strong financial habits to offer a credit card first, but there are a couple of reasons we've chosen to do this. First, it's a safer way to pay. Paying with a credit card provides an extra layer of protection, as it is easier to resolve theft and fraud without actually losing money from your bank account. Second, responsible credit card use can be a powerful tool for maximizing your finances; cashback is just another way for your money to make more money for you. And finally, establishing a strong credit history is essential to all kinds of life goals (buying a house or a car, for example), and regular credit card use is a great way to build up your credit report. 
Step 3: Unlock HMBradley's most exclusive rewards.
Once you have the HMBradley Credit Card, you can get in line to apply for HMBradley's enviable Deposit Account – a high-yield checking account so popular we kind of broke the Internet with it last year and had to temporarily implement a waitlist. 
The HMBradley Deposit Account already offers some of the highest interest rates available anywhere, rewarding you with a higher annual percentage yield (APY) based on how much you save each quarter. When paired with the HMBradley Credit Card, you can boost the APY on your HMBradley Deposit Account by three times (3x).
Take a look at the updated APYs in our Savings Tier system, and check out how much interest you can earn when you boost your APY with the HMBradley Credit Card through our Savings Tier Boost Promotion: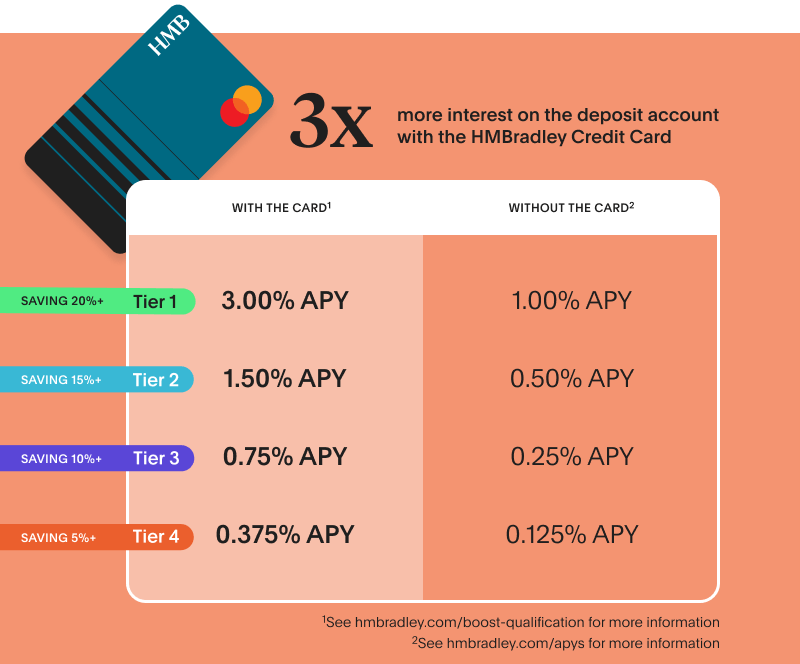 Enjoy the full benefits of the HMBradley ecosystem…
When we say HMBradley's products are built to be even better together, we really mean it. 
Savings Tier Protection makes it easier than ever to hit that 20% savings rate and unlock Tier 1. If this is the first time you're hearing about it, here's the scoop: when you use your HMBradley Deposit Account to make payments toward your HMBradley Credit Card, those payments won't count against your savings rate — which makes putting your everyday spending on the HMBradley Credit Card truly a no-brainer.
If you're an existing customer with an HMBradley Deposit Account, here's how to qualify for the new 3x boost to your APY for the next quarter:
Existing HMBradley Credit Card customers must:
Have an active HMBradley Deposit Account and HMBradley Credit Card;
Qualify for a Savings Tier in your HMBradley Deposit Account;
Receive $1,500 in direct deposits each month to your HMBradley Deposit Account; and
Spend $100 every billing period on the HMBradley Credit Card.
New HMBradley Credit Card customers must:
Have an active HMBradley Deposit Account;
Qualify for a Savings Tier in your HMBradley Deposit Account; and
Claim your HMBradley Credit Card invitation by 12/31/2022.