We have exciting news to share! After shifting to invite-only last July and implementing a waitlist, we are finally reopening our proverbial doors to new customers. We've spent the past eight months making improvements and updates to the HMBradley platform, and we're eager to show you what we've been up to.
Our excitement about reaching this milestone is tempered by one thing: we are not quite ready to begin accepting new deposit account applications. We know our legendary interest rates may be what drew you to us in the first place, and if you've been waiting for access, we sincerely appreciate your patience up to this point – and for just a little while longer. Our team is still hard at work to reopen deposit account applications; once that day comes, you better believe we'll be celebrating right along with you! 
Understand Your Financial Profile
Now, the good news: starting today, you can sign up for an HMBradley profile without an invite or referral link. When you do, the first thing you'll have access to is Credit Insights: a free overview of your financial profile, including your credit score, debt-to-income ratio, and credit utilization. Credit Insights introduces transparency into the lending process, helping you see yourself like we (and other lenders) do. Put yourself in a position to access the financial products you deserve by gaining a deeper understanding of your credit profile.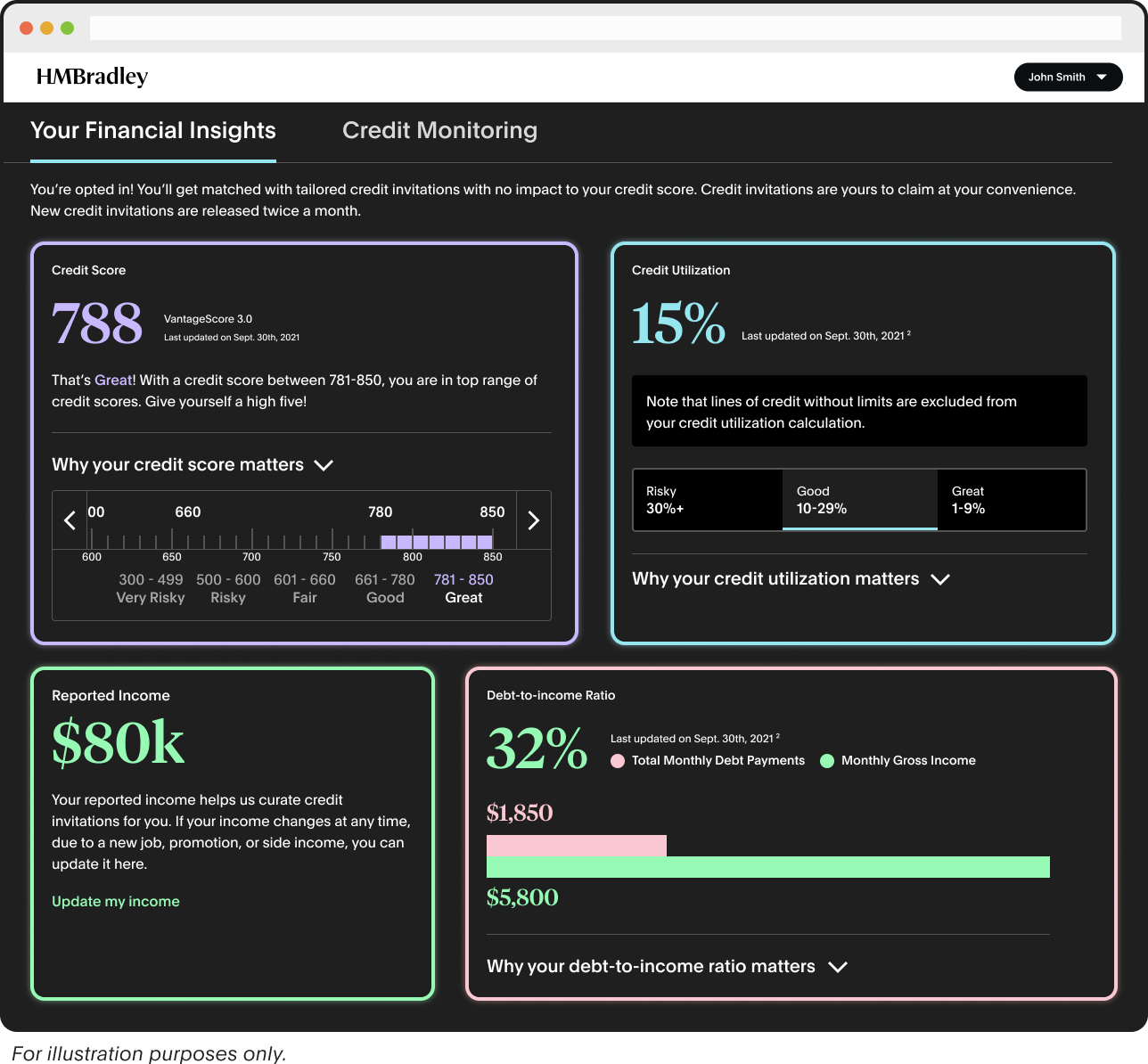 Receive Hassle-Free Credit Invitations 
After setting up your Credit Insights profile, you might find a credit card invitation waiting for you.¹ It may seem strange for a company that advocates strong financial habits to offer a credit card first, but responsible credit card usage can be a powerful tool to build up your credit. In fact, establishing a strong credit history is essential to all kinds of life goals (buying a house or a car, for example).
We don't think it makes sense to require our customers to submit an application just to see what they're good for – we'd rather be transparent and show you the credit card terms applicable to you up front (including a pre-qualified credit limit and fixed APR).² We run a soft inquiry (which does not affect your credit score) when you sign up, in order to populate your Credit Insights information and evaluate you for a credit invitation. If you qualify, you'll be able to preview all the details of the credit product that we are inviting you to apply for, and – if you like what you see – apply with just one click!  
In the spirit of transparency, we don't mind telling you that HMBradley Credit Card customers will likely be the first to receive access to apply for our coveted deposit account. This means accepting your credit card invitation could be the quickest path toward being invited to apply for a deposit account in the future. 
Maximize Your Rewards
Combining the HMBradley Credit Card with the HMBradley Deposit Account is the key to unlocking our highest APY,³ but the credit card also offers amazing standalone benefits. We call it the best everyday card for a reason: HMBradley Credit Card customers earn personalized cashback on nearly every dollar spent.⁴ There's no limit to the amount of cashback you can earn, and your categories update dynamically based on your spending, which means no more jumping through hoops to maximize your rewards.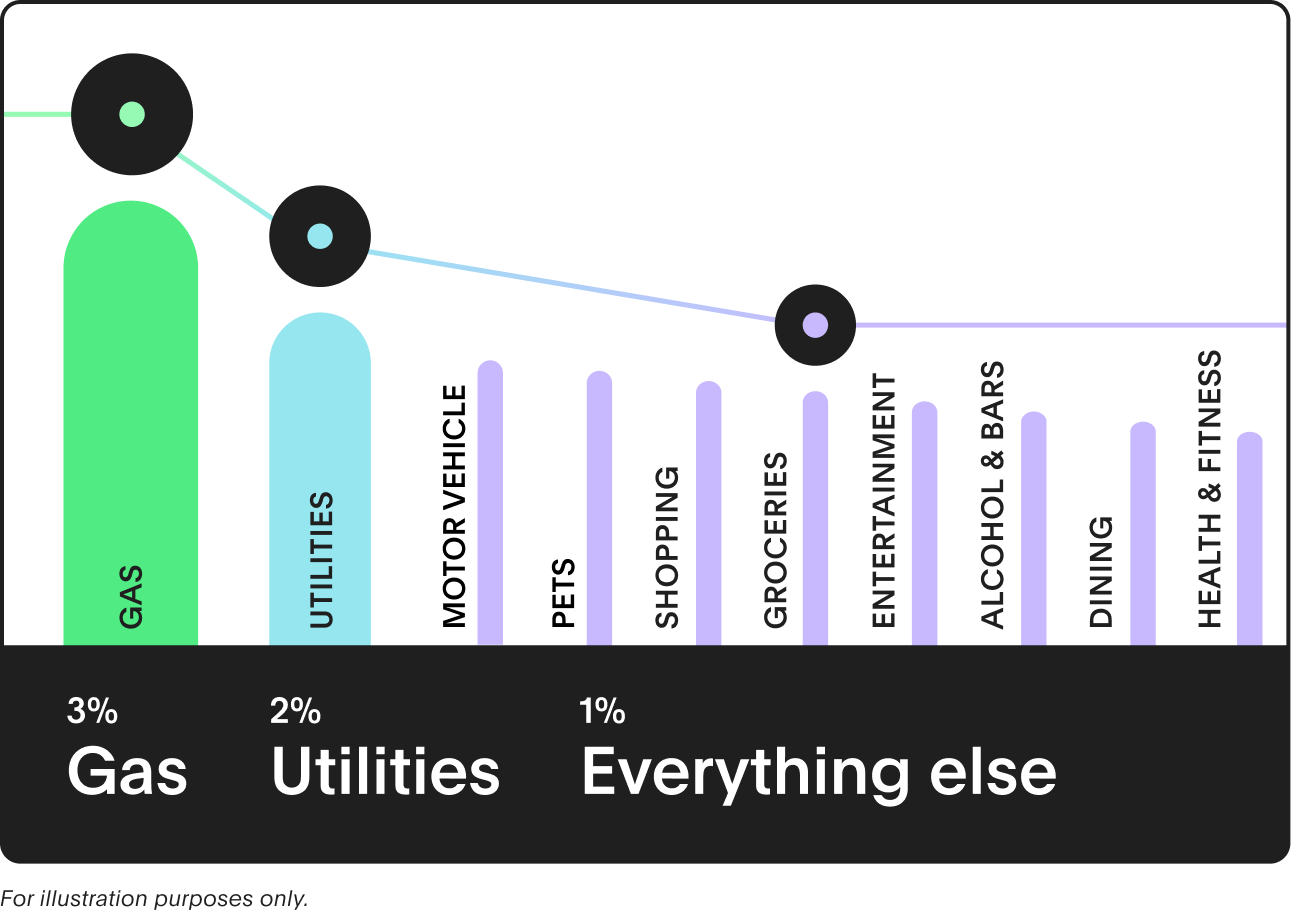 Since the start, our vision for HMBradley has been to create a personal finance platform built around you – a platform where you can strengthen your financial habits and grow your money over time. Over the next year, we'll be continuing to build products that, when combined, put your money to work harder than anywhere else. It may start with a simple credit profile, but this is just the beginning. Join us today, and take the first step toward unlocking your money's potential.